Recipe: Yummy Asparagi and Goat cheese quiche
Asparagi and Goat cheese quiche. A fluted tart pan makes this store-bought crust extra special. You can prepare the quiche , which is great served for dinner or a brunch , up to two days in advance. Store it, covered, in the refrigerator.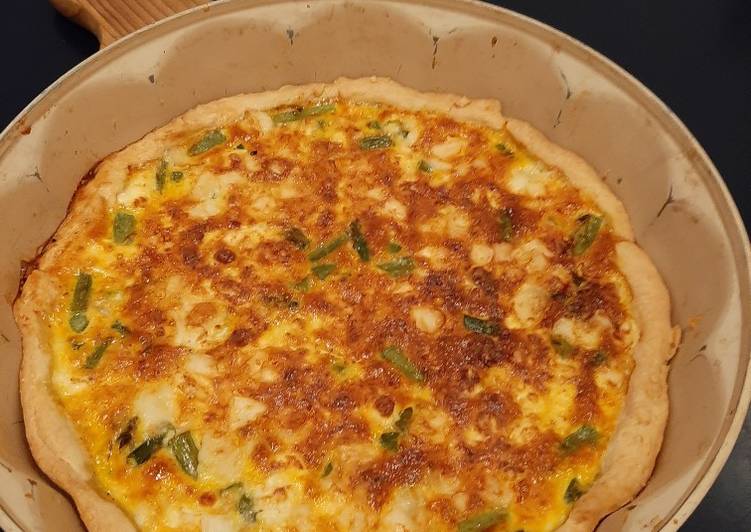 It's a perfect main dish for Easter brunch, Mother's Day breakfast, or. Roasted Asparagus and Goat Cheese Quiche. Asparagus and goat cheese is one of my favorite combinations in the entire world. You can cook Asparagi and Goat cheese quiche using 14 ingredients and 6 steps. Here is how you achieve that.
Ingredients of Asparagi and Goat cheese quiche
It's of For the crust.
You need 160 gr of flour.
You need 5 gr of sugar.
Prepare 2 gr of salt.
You need 90 gr of butter.
Prepare 60 gr of cold water.
You need of For the filling.
Prepare 1 of small onion.
You need 3 of eggs.
You need 140 gr of milk.
It's 45 gr of goat cheese.
You need 340 gr of asparagi.
It's of Salt.
You need of Pepper.
Like any egg-based custard, it is preferable to Distribute the goat cheese, in large clumps, evenly across the top of the filling. This quiche is simple to assemble, made up of nothing more than an easy crust and an enriched filling that you can make your own. The combination of asparagus, lemon and goats' cheese has long been a favourite of mine but you can play around with the filling. Bake Pillsbury® pie crust topped with asparagus and goat cheese to make this delicious quiche for dinner – a perfect French cuisine recipe.
Asparagi and Goat cheese quiche instructions
Start by making the crust: mix flour, sugar and salt. Then add the diced butter and mix until the butter pieces are quite small. Then start by adding a bit of water, then work the dough. Keep adding the water until the dough is soft and smooth..
Transfer dough to a lightly floured work surface to roll it out; transfer to a pie dish. Gently press the dough into the pie dish and trim excess dough around the edges. Put the crust in the fridge.
Dice the onion, chop the asparagus (after removing the end). Cook the onion in a pan with a bit of olive oil until tender, then add the asparagus. Cook for a few minutes, until tender and crispy.
Make the custard by whisking the eggs,the milk, salt and pepper.
Remove the crust from the fridge, add the onion and the asparagus, crumble the goat cheese and then add the custard.
Bake in a preheated oven at 190°C for 35/45 min. Let it stand for 5 min before serving.
This Asparagus + Goat Cheese Quiche is the most delicious thing you could serve at a springtime brunch! Simple ingredients, lovely flavors, beautiful presentation! I just returned from a whirlwind weekend exploring the culinary wonders of the Finger Lakes. A crunchy buttery base and a creamy filling make the perfect balance for a tasty spring quiche. Serve as starter or as a main dish.