Recipe: Perfect Bruschetta with Goat Cheese and Tomatoes
Bruschetta with Goat Cheese and Tomatoes. Make the Perfect Salad With The Help Of Our Recipes. Toast baguettes on a cookie sheet just until slightly browned. Rub halved garlic clove over the toasted side to infuse bread with flavor.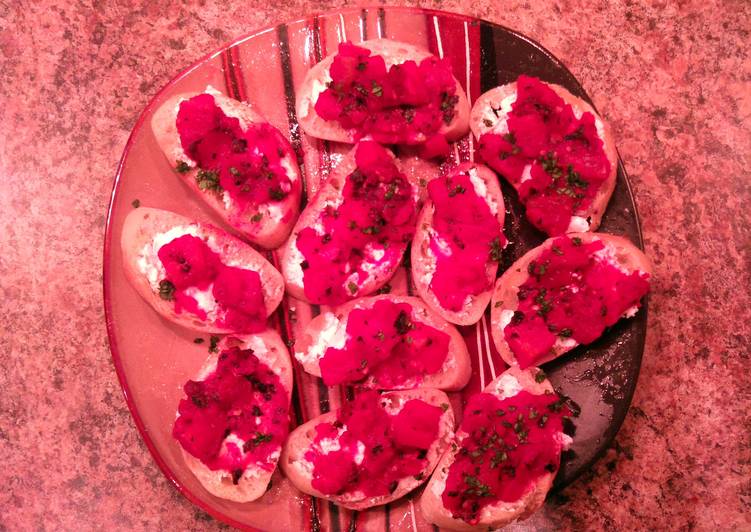 On top of the tomatoes sprinkle a generous amount of goat cheese and tap down so it doesn't fall off. If you like you can add a pinch of sea salt but I didn't. Place the bruschettas under the broiler and toast just until the cheese starts to soften and the edges get nice and brown; serve. You can cook Bruschetta with Goat Cheese and Tomatoes using 9 ingredients and 3 steps. Here is how you cook that.
Ingredients of Bruschetta with Goat Cheese and Tomatoes
Prepare 12 slice of 1/2 inch thick French Baguette.
It's 2 tbsp of Olive Oil.
It's 2 large of Garlic Cloves, halved.
You need 6 of Roma Tomatoes, seeded and chopped.
It's 1 tsp of Fresh Lemon Juice.
Prepare 4 oz of Soft Goat Cheese.
Prepare 3 tbsp of Fresh Basil, chopped.
It's 1 of Sea or Kosher Salt.
It's 1 of Ground Black Pepper.
Submit a Recipe Correction Goat Cheese and Roasted Tomato Bruschetta. This is the first recipe I am sharing on the blog so I wanted to start with one of my favorites. Bruschetta is the perfect dish to add color and excitement to your table. All of the fresh ingredients combined with balsamic vinegar creates a flavor explosion in your mouth.
Bruschetta with Goat Cheese and Tomatoes step by step
Preheat oven to 325°F..
Arrange slices on baking sheet and brush each side with olive oil. Bake the bread until toasted (about 4 minutes) per side. While still warm rub one of the cut sides of garlic over one side of the toast. Then top with a smear of goat cheese ..
In a small bowl combine the tomatoes and lemon juice. Top each toast with tomato mixture and sprinkle with basil. Season with salt and pepper..
The thing about bruschetta is that there are so many. Directions: Crush garlic cloves into olive oil and set aside. Dice tomatoes and place in medium sized bowl. Tear or cut up basil and add to tomatoes in bowl. In a small food processor add goat cheese and garlic powder.