Tuna fish cakes. Spicy Tuna Fish Cakes. this link is to an external site that may or may not meet accessibility guidelines. WELCOME TO HENRYS HOWTOS I am a fulltime self trained executive chef as well as having alot of experience and knowledge in DIY, electronics. Tuna fishcakes are super-easy, quick and cheap.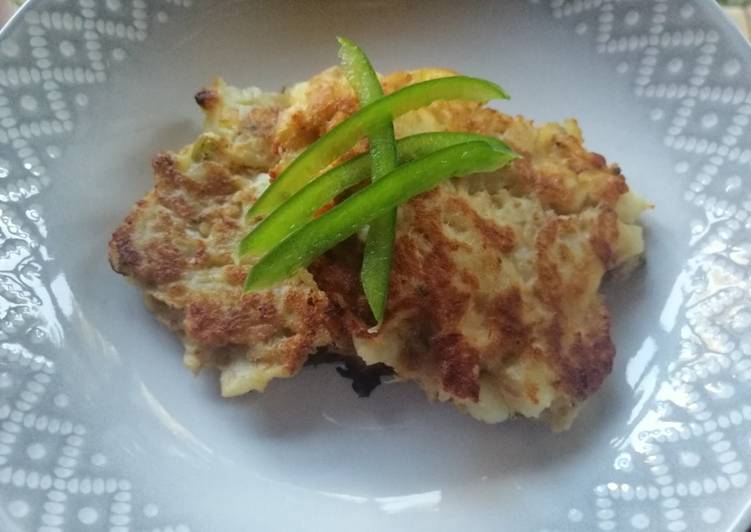 Once you've formed the patties, it's time for coating. A lot of recipes just fry the patties, or at the most dredge in flour and fry. tuna fish cakes. Use salmon or tuna in these easy fishcakes with grated potato, capers, asparagus and mustard. You can cook Tuna fish cakes using 7 ingredients and 3 steps. Here is how you cook it.
Ingredients of Tuna fish cakes
It's 1 can of tuna (drained).
It's 2 of medium sized potatoes.
You need 1 of large egg.
You need 1 of medium onion diced.
You need 2 tablespoon of sliced spring onion.
It's of Oil for frying.
It's To taste of salt and pepper.
These gorgeous spicy tuna fish cakes are perfect for entertaining. Spicy Tuna Fish Cakes with Dipping Sauce. I adore fish cakes, even growing up I loved those mushy things that they served with school dinners. tuna fish cakes. Collection by Tommy Javerfalk. · These Thai tuna fish cakes hit all the right flavour sensations, hot, sour, sweet & salty and they come with a delicious easy dipping sauce.
Tuna fish cakes step by step
Dice and cook the potato. Add the tuna, diced onion and spring onion and salt and pepper..
Mix together and use a masher to Chop the bigger pieces of potato. Don't Chop into mash though.
Put a stove on high and oil a pan and add the fish cakes. Fry for 4 minutes each side then drain on paper towels before serving..
These tuna fish cakes are literally thrown together and they are fancy enough (or at least adaptable to be so) and kid friendly enough to suit the whole family. All you need is some tuna and mashed tomato.. Best thing you can make with canned tuna. All you have to do is say these two words and I'm flooded with childhood memories. Meanwhile, assemble the salad: put the lettuce, green beans, black olives and tomatoes in a large bowl.