Recipe: Perfect Vickys Easter Apple Cinnamon Hot Cross Buns, GF DF EF SF NF
Vickys Easter Apple Cinnamon Hot Cross Buns, GF DF EF SF NF. Do you ever bake your own hot cross buns? The delicious flavour of juicy apple, spicy cinnamon in our famous Hot Cross Buns! This product is only available during the Easter period.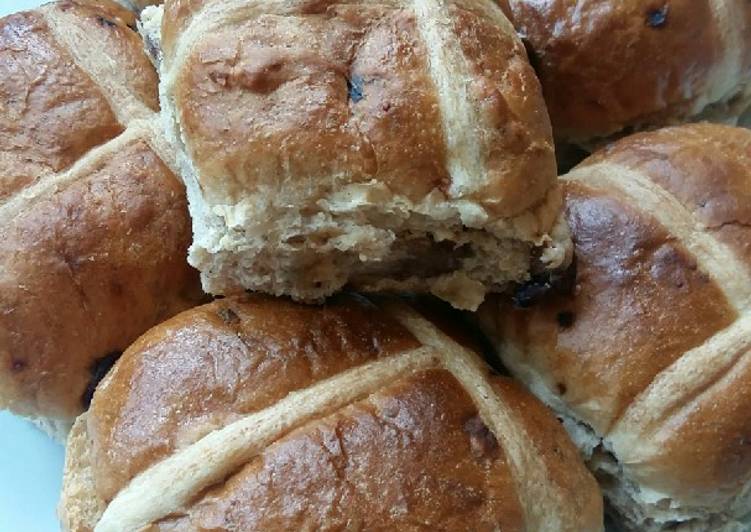 The mix of candied apple and dried apple combined with a sticky cinnamon glaze provides a new twist on an old favourite. Baking your own hot cross buns is one way to make Easter feel special while staying at home. These hot cross buns are inspired by the traditional kind, but made with a deepened amount of spice, citrus and an optional dash of rum. You can cook Vickys Easter Apple Cinnamon Hot Cross Buns, GF DF EF SF NF using 19 ingredients and 12 steps. Here is how you achieve that.
Ingredients of Vickys Easter Apple Cinnamon Hot Cross Buns, GF DF EF SF NF
Prepare 250 ml of coconut milk, lukewarm.
You need 7 grams of fast action yeast.
Prepare 2 tbsp of sugar.
It's 500 grams of gluten-free flour / strong white bread flour.
Prepare 1 of & 1/2 tsp xanthan gum if using gluten-free flour.
Prepare 1 pinch of salt.
Prepare 2 tsp of mixed spice.
Prepare 2 tsp of cinnamon.
You need 1 of large cooking apple, peeled, cored and finely chopped.
You need 100 grams of sultanas.
Prepare 50 g of mixed peel.
It's 85 ml of – 100ml apple juice / orange juice.
Prepare 2 tbsp of olive oil.
It's of Crosses.
Prepare 3 tbsp of gluten-free / plain flour.
Prepare 2 tbsp of water.
It's of Glaze.
It's 2 tbsp of apple juice / orange juice.
You need 2 tbsp of caster sugar.
Hot cross buns just must be my favourite Easter treat. I absolutely love the spicy, fruity buns, toasted with plenty of butter. I make them almost every Easter, but I think this year's efforts are the best yet, and needless to say, so much better than store-bought. Mary's going to be so proud that you made your own hot cross buns this Easter.
Vickys Easter Apple Cinnamon Hot Cross Buns, GF DF EF SF NF instructions
Mix the yeast and sugar into the milk and set aside.
Mix the flour, xanthan gum if using, salt and baking spices together in a large bowl. Stir the sultanas, mixed peel and chopped apple pieces in.
Make a well in the centre and stir in the apple / orange juice, oil and yeast mixture.
Form a sticky but soft dough using your hands. Depending on the flour used you may need to add a little more milk as gluten-free flours need more liquid, 2 -3 tbsp should be plenty.
Turn the dough out onto a lightly floured surface and knead for 5 – 10 minutes until the dough is smooth. Place the dough in an oiled bowl, cover with a damp tea towel and leave in a warm place for an hour or until it has doubled in size.
Punch the dough down and knead again for 10 minutes then divide into 12 equal pieces.
Roll the pieces into smooth balls and evenly space out on a large baking tray lined with parchment paper. Recover with the damp tea towel and again, leave in a warm place for 45 minutes until doubled in size.
Preheat the oven to gas 6 / 200C / 400F.
To make the crosses, mix the flour and water to a paste the consistency of butter icing. Place the paste in an icing bag or plastic bag and snip the end off, then pipe crosses on the hot cross buns. It's easier to go along the whole row than do individual crosses.
Bake for 20 – 22 mins until the buns are golden and firm.
To make the glaze, dissolve the caster sugar in the juice, boil for a minute in the microwave or a small saucepan until thickening, then brush over the hot buns as soon as they come out of the oven. Let the glaze set before you enjoy the buns with safe butter, jam, marmalade, nutella or naked, whatever you fancy!.
Will keep for up to 3 days, best enjoyed halved and toasted.
Lucky thing her recipe is completely foolproof. These Hot Cross Buns are way better than the stock standard ones you buy from grocery stores. Those are pumped with preservatives and have a distinct artificial But for many healthcare workers around the world, including my hometown of Sydney, they will be working too hard to celebrate Easter. Hot Cross Buns are a traditional Good Friday treat! These slightly sweet yeast-leavened buns are spiced with cinnamon and speckled with currants They're an Easter tradition, a soft, slightly sweet, spiced yeast roll speckled with currants and often candied citron.