BANANA BREAD PUDDING. Recipe for making banana bread pudding, with bursts of juicy raisins. Topped with creamy caramel sauce, this bread pudding is best served warm. Bread, bananas and chocolate chips are featured in this bread pudding.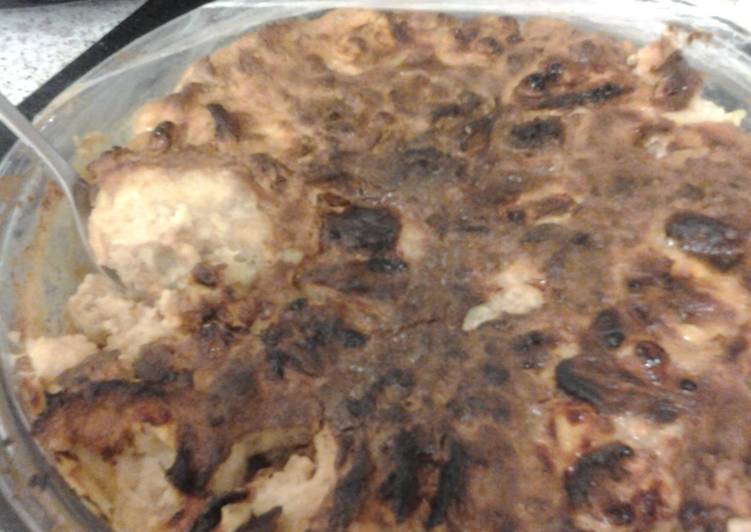 I am amazed at how many different types of bread pudding there are. On a cutting board, cut bread into small cubes. Serve this Banana Bread Pudding with a big scoop of vanilla bean ice cream that slowly melts on top of this warm dessert, and each indulgent spoonful is pure bliss. You can have BANANA BREAD PUDDING using 6 ingredients and 4 steps. Here is how you cook that.
Ingredients of BANANA BREAD PUDDING
You need 5 of bread rolls ( Day old is best ).
You need 1 pints of milk.
Prepare 2 tsp of Condensed milk.
It's 2 tbsp of Dark brown sugar.
Prepare 3 of Bananas.
You need 1/2 tsp of powdered Cinnamon ( optional ).
This Banana Bread Pudding is the ultimate comfort food! Rich, creamy and full of delicious banana flavour. Serve with cream and homemade caramel sauce. See more ideas about banana pudding, banana pudding recipes, dessert recipes.
BANANA BREAD PUDDING instructions
In a large Oven Dish about 2 inch Depth, break up the Rolls into the dish..
In a jug mix milk and the condenced milk together, and pour over Bread..
In a bowl mix sugar and banana,s together then add it to the bread mix , turn it over and mix in the banana mixture.if using cinnamon mix in with the sugar and banana mixture..
Cook on 150 for 30 mins , then grill the top, so its browned. Serve Cold with Honey poured on or just by itself.
This Banana Bread Pudding recipe is suitable for dairy free and vegetarian diets. It can be made suitable for gluten free diets by swapping the following ingredients out for gluten free alternatives Have you ever made bread pudding from banana bread? I was asked to come up with some easy holiday food ideas by Foodworks, an Australian supermarket chain. Vanilla pudding mix is the secret ingredient in this easy banana bread. Vanilla pudding mix is the secret ingredient in this dessert-like loaf.