No bake Oreo Cheesecake. An easy No-Bake Oreo Cheesecake with an Oreo crust. This simple no-bake cheesecake makes a perfect dessert for any time of year! This No Bake Oreo Cheesecake is made with just a few ingredients!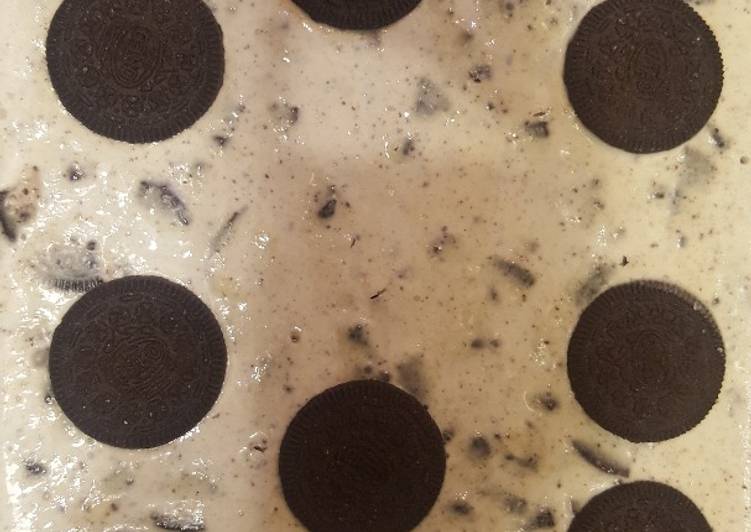 Spread it into the crust and chill. This No Bake Oreo Cheesecake is the ultimate cookies and cream dessert. With a crunchy Oreo crust and a creamy cheesecake filling, it's so easy to make! You can cook No bake Oreo Cheesecake using 7 ingredients and 7 steps. Here is how you cook that.
Ingredients of No bake Oreo Cheesecake
It's 176 g of Oreo cookies divided.
Prepare 60 g of Melted butter.
Prepare 250 g of Cream cheese softened.
It's 200 ml of Castor sugar.
Prepare 1 teaspoon of Vanilla Essence.
It's 250 ml of Cream, lightly whisked.
Prepare of Extra Oreo's to decorate.
You don't even need to turn the oven on. The Oreo crust is filled with no-bake white chocolate cheesecake and loaded with Oreo cookies. I'm sure you've seen a No-Bake Oreo Cheesecakes before, but what makes mine a bit different is the white chocolate that's mixed in the no-bake cheesecake base recipe. Hope you like this Oreo Cheesecake recipe, it's a real show stopper to impress a crowd with.
No bake Oreo Cheesecake instructions
Grease your cake tin. I've used a Pyrex dish.
Chop 12 of the divided cookies coarsely and set aside..
Finely crush the remaining cookies. I didn't crush mine too fine..
Now mix your melted butter with the crushed cookies and line your tin/dish creating a crush for your cheesecake. (I've used Sunshine D butter so it looks abit greasy).
Use a electric beater to beat your cream cheese, vanilla essence and castor sugar. Once smooth add your cream and coarsely chopped cookies..
Spread the filling evenly over your crush. And allow to chill in your fridge for 4 hours.
Once chilled decorate and serve..
But sshhh, don't tell anyone – it's actually really easy to How long do you need to chill a No Bake Oreo Cheesecake for? Reviews for: Photos of PHILADELPHIA-OREO No-Bake Cheesecake. No Bake Oreo Cheesecake is perfect for when you are craving the silky smooth delightfulness of Cheesecake but don't want to turn on your oven! The filling for this no-bake cheesecake recipe has a special ingredient, the Oreo filling itself! I also use heavy whipping cream instead of condensed milk.