Simple Buttermilk Biscuits. These homemade buttermilk biscuits are soft and buttery with hundreds of flaky layers! These Easy Buttermilk Biscuits are incredibly soft, tall, flaky, and buttery. Serve these with some jam, gravy, or your topping of choice for an easy and delicious breakfast!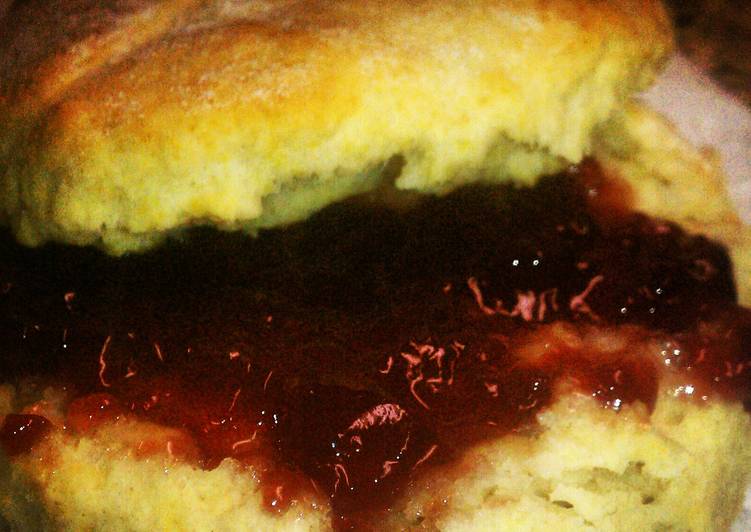 Warm and fluffy Buttermilk Biscuits are often the crown jewels of a great holiday feast. Place flour, baking soda & powder and salt in food processed. Flaky, buttery buttermilk biscuits are perfect any time of day. You can cook Simple Buttermilk Biscuits using 6 ingredients and 6 steps. Here is how you achieve it.
Ingredients of Simple Buttermilk Biscuits
You need of all-purpose flour.
You need of baking soda.
Prepare of baking powder.
Prepare of salt.
You need of butter, cubed and very cold.
It's of buttermilk.
This deceptively simple recipe can come out a million different ways with some very minor variations on the ingredients and amounts. These delicious buttermilk drop biscuits are great for breakfast, lunch, or dinner. This simple recipe requires just six common ingredients and can be made with fresh or dried buttermilk. These buttermilk biscuits are the homemade biscuit recipe you've been looking for!
Simple Buttermilk Biscuits step by step
Preheat oven to 400 degees. Place flour, baking soda & powder and salt in food processed..
I keep my butter in the freezer to get extra cold while gathering my other ingredients. Add butter to food processer and pluse 1-3 times until the mixture resembles coarse sand..
Add buttermilk in batches, pulse after each addition of buttermilk. Stop pulsing when dough is just combined..
Dump dough onto floured surface. Pat dough together, handling it as little as possible. Cut out biscuits, reuse the leftover dough by kneading a few times and patting out again. The biscuits made from rerolled dough will not be as fluffy as the first batch..
Place biscuits on a non-stick baking sheet. Bake for 10-12 mins or until golden & fluffy..
You can freeze these biscuits on baking sheet until frozen through. Place in storage bag to use at a later date. To bake from freezer, preheat oven to 400°F and bake for 20 mins..
They are perfectly flaky with a buttery crumb that almost melts in your mouth. A simple recipe that takes less. Warm, flaky buttermilk biscuits and good old-fashioned country gravy, it's a delicious combination that takes me on a journey to my younger days, before becoming vegan. Flaky, buttery, tender buttermilk biscuits taste the best when they are homemade! No fancy ingredients, just a few simple techniques and tips will make these the best buttermilk biscuits.