Loves Sweet Potato Casserole. Sweet potatoes topped with creamy toasted marshmallows. All sweet potato casseroles will be sweet. The key is to get the ingredients textures and flavors to blend to a sweetness which compliment each other.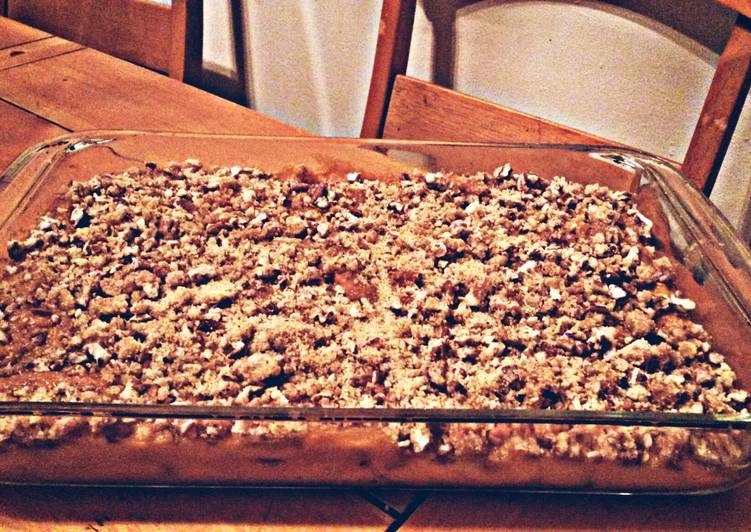 This easy sweet potato casserole recipe is the best Thanksgiving side dish! Creamy ginger-spiced sweet potatoes are topped with a maple pecan crumble. For years, I thought I didn't like sweet potatoes. You can cook Loves Sweet Potato Casserole using 11 ingredients and 7 steps. Here is how you achieve that.
Ingredients of Loves Sweet Potato Casserole
You need 5 cup of Mashed Sweet Potatos.
Prepare 2 of large Eggs.
It's 3/4 cup of Sugar.
Prepare 1 tbsp of Vanilla.
Prepare 1/2 tsp of Salt.
You need 1/2 cup of Butter, Melted.
You need 1/2 cup of 2% Milk.
Prepare 1/2 cup of Brown Sugar.
Prepare 1/3 cup of All Purpose Flour.
You need 1/4 stick of Butter, Melted.
You need 2 cup of Chopped Pecans.
But if you've been reading the blog for a while, you know that I actually love sweet potatoes. My husband loves sweet potatoes with LOTS of marshmallows and wanted a casserole like one of his aunts used to make. After a few trials, this was the final incarnation. Turn oven to broil and move casserole to the upper middle rack.
Loves Sweet Potato Casserole step by step
Preheat oven to 325°.
Coat 9-by-13-inch baking dish with cooking spray..
In large bowl, combine sweet potatoes, eggs, sugar, vanilla, salt, 1/2 cup butter, milk & 1 cup chopped pecans..
Mix well & pour into dish..
In medium bowl, combine remaining ingredients..
Sprinkle over sweet potato mixture..
Bake 35 minutes :).
Sweet potato casserole unlike anything you've had before!! Browned butter, sour cream, parmesan I am beyond excited to share with you this sweet potato casserole!! I mean, plain mashed sweet Did you make this recipe? I love hearing how you went with my recipes! This easy sweet potato casserole with mashed potatoes has a buttery, crunchy pecan topping.