chicken and broccoli cheese soup. An easy and quick soup to make on a cold day. Full of a great cheesy taste with big chunks of chicken and broccoli all over. #YouGottaMakeThis Chicken Broccoli Cheese Soup! I love cheese soup, but my husband doesn't think of it as a "meal" because it's missing meat.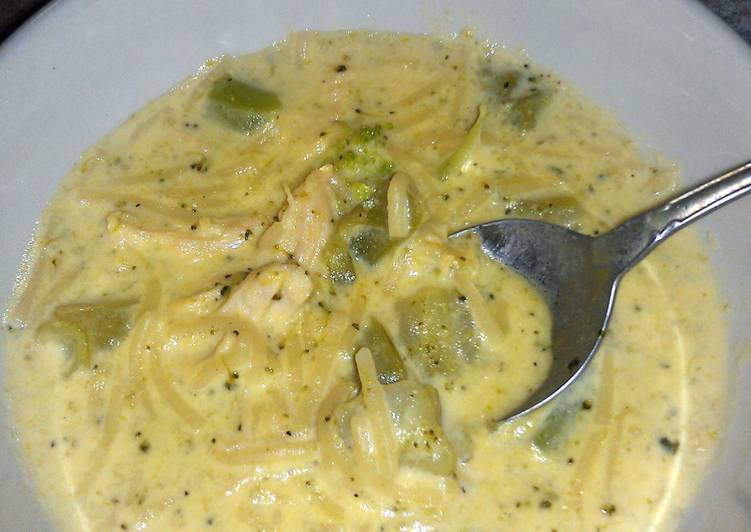 Crack Potato and Broccoli Cheese Soup Plain Chicken. We can't get enough of this cheesy rice bake stuffed with chicken, broccoli, and cheddar. The brilliance of this dish isn't just the flavor combo—it's the fact that you're making it all in one pan. one pan, people! You can cook chicken and broccoli cheese soup using 5 ingredients and 4 steps. Here is how you achieve that.
Ingredients of chicken and broccoli cheese soup
Prepare of chicken and broccoli soup.
You need of chicken breast.
You need of broccoli.
It's of Mrs. Grass soup mix.
Prepare of Velveeta cheese.
This broccoli cheddar soup recipe is SO satisfying! It's loaded with fresh broccoli, and creamy thanks to a potato and cheddar cheese (no cream, no flour!). I tried to make a great broccoli soup six months ago. I gave up after several failed attempts, and recently tried again after discovering Sarah.
chicken and broccoli cheese soup step by step
Boil 1lb of chicken. Strain the water then use two forks to separate chicken to desired size. Using a large pot, place the chicken into 9 cups of water..
Bring 9 cups of water and chicken to a boil stir in entire contents of Mrs.Grass soup cartons..
Add 1lb of fresh or frozen broccoli to your soup..
Add 1/2 – 1 box of Velveeta cheese depending on your preferences (cut into portions for a quicker melt). Stir frequently until cheese is evenly melted. Let cool then serve..
This bowl of soup, has comfort food written all over it. Chicken is simmered with broccoli, single cream, chicken stock and Cheddar cheese. My easy Broccoli Soup is a simple Cream of Broccoli Soup that's thick and creamy with an extra hit of flavour from cheddar cheese! A quick saute of garlic and onion to create the flavour base, then tip everything else in a simmer away: chicken or vegetable stock/broth, water, broccoli and potato. No need to go out to a well known bread company, this copycat broccoli cheddar soup is incredibly smooth, rich, and full of great broccoli cheese flavors!